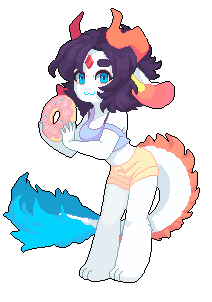 Hi! I'm Ashley or Ashi ♡ Amateur Artist & Professional Nap Taker
05.28 | She/They | INFP
---
I'm new to Newgrounds & I'm still getting the hang of it here.
My art is SFW / NSFW however I've been drawing much more of the latter for a couple of months.
I'm much more active on my Twitter!
Clip Studio Paint Pro | Wacom Cintiq 27QHD
If you enjoy my art & want monthly exclusives, consider supporting me on Patreon!
Any form of support is greatly appreciated & helps me ♡
---
deviantART | Instagram | Picarto.tv | Kofi Tip Jar
Dancing Ashiji gif by AshleyZombie ♡